CRM for Fundraisers: TntMPD
Matt Stauffer
The question I hear from campus staff often than any other is "How do I manage my contacts?" There's a term for this in the business world: Constituent Relationship Management tools.  A few months ago I asked around about the options available to campus ministers, and after some great feedback decided to develop Karani. However, despite the fact that I built Karani to meet the needs of people who fundraise like me, there are certainly people who would benefit from one of the other systems available. This week I'll be giving a short introduction to each of these.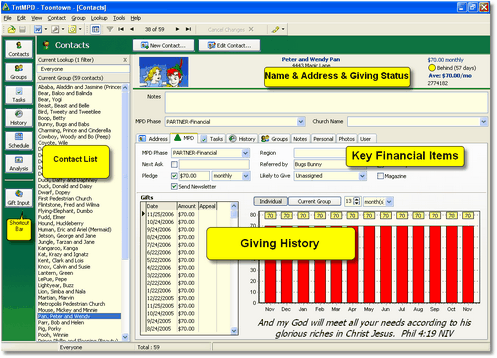 TntMPD is a free, powerful, full-featured, desktop-based CRM solution built specifically for missionaries raising their own funds. It's built and maintained by Troy Wolbrink, a Cru staffworker, and a team of folks at Cru. They distribute it for free, and it's available for Windows and (recently added) for Mac (which is the Windows version wrapped in a Mac shell.)
For an in-depth introduction, view this post from the guy who wrote much of the TntMPD documentation, or view this video from Navigators' MPD team.
TntMPD is focused on Cru's fundraising workflow (which they call Ministry Partner Development, the MPD in the program's title), but many other missions organizations have adopted TntMPD as their fundraising standard. Organizations can implement a Tnt Data Server to allow their employees' contact and giving information to sync directly with their organization servers.
Pros
Free
Full-featured: Over the years Troy and his team have added many features, including tasks and ticklers, mailmerges, groups, custom reports, interaction history.
Contextualized: TntMPD is built specifically for individual fundraisers. It's not a hack into an existing system, but a built-from-the-ground system for people in our context.
Syncing: If your organization implements the TntMPD server protocol, your contacts and gifts will sync automatically from their server
Cons
Desktop-only: TntMPD doesn't offer a mobile component of any kind.
Windows-based: The TntMPD team recently release a Mac version of TntMPD. It's a port of the Window TntMPD software, so it doesn't feel like a native Mac app and they're still working out the bugs; Mac users should still consider checking it out, but it's clearly a Windows-based app and mindset.
<!– #comments –>