A How-To Guide for Using Mass Texting Service Tatango
Brian Sun
A How-To Guide for Using Mass Texting Services: Tatango.
Tatango is one of the best mass texting services for your ministry. After a 7-day free trial, it's $24 a month for 0-250 subscribers and allows you to send unlimited text messages and unlimited campaigns. Tatango is easier to use than any other mass texting software I've seen and tried.
To get started with Tatango, you have to create an account. Here's how.
How To Create An Account In Tatango.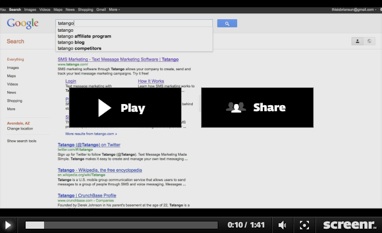 If you don't like screencasts, here's the written out instructions on how to create an account in Tatango.
1. Go to tatango.com in your browser
2. Click on the big green button that says "try it free for 7 days" – this is a no strings attached, commitment required to see if you want to join the service or not.
3. Fill out the form with all the required information.
4. Click the big green button that says "sign up"
5. Open up your email inbox.
6. Open up the email in your inbox that says "please confirm your email address"
7. Click on the link that says "click here to complete your sign up"
8. You've made an account. Good work!
How To Create A New Keyword in Tatango.
Now that you're signed up, you'll want to set up your first 'keyword,' which is the word people text to Tatango to sign up for your texting group.
If you don't like screencasts, here's the written out instructions on how to create a new keyword in Tatango.
1. Click on "create new keyword"
2. Write your keyword in the form – keep it to one word, short, to the point. Examples include: ASUCRU, NAUIV, UCRNAVS
3. Click "subscription" as the keyword type so you can collect phone number and send frequent messages.
4. Enter a message to reward someone for subscribing to your messages. Example: "Thanks for signing up you really cool students. Expect updates from our fellowship. Thanks!"
5. Click "create keyword" then Tatango will give you instructions on how to have students join your texting group.
6. Your keyword is created and you're ready for students to join. Good work!
After signing up for Tatango, they send you super helpful tips over the week on where to advertise your texting group, how often to send text messages, all the legal mumbo jumbo, and more.
How to send a text message in Tatango.
Sending your first text message comes after students have texted the keyword to the shortcode number.
At your leadership team meetings, big group gatherings, and other applicable meetings, have your students text the keyword to the short code number – that's how they become subscribers.
Once you get subscribers, it's time to send your first text message. Here's how.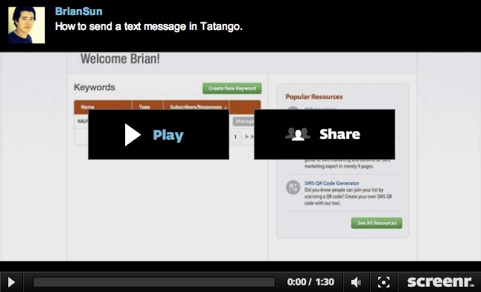 If you don't like screencasts, here's the written out instructions on how to send a text message in Signal.

1. Click on the gray button that says "Manage" for the list that you want to send a text message to – it's in the middle of your dashboard after you login to Tatango.

2. Click on "Send Message" – it's on the left of the screen underneath "Overview"

3. Type your text message in the box with the heading "Enter your text message below" – Tatango already includes a message to opt-out automatically so don't worry about adding it like you do in Signal.

4. Review your message by looking at the phone screen on the right – it updates in real-time as you type your text message.

5. When you are ready to send, click on the big green button that says "Send Text Message." A box will come up asking you to confirm, click on "Send Text Message" in the pop-up box and you're done!

After signing up for Tatango, you're on your way to improving your communication with students while they're on the go. Happy texting.

<!– #comments –>