Getting Started With Cloud Storage
Matt Stauffer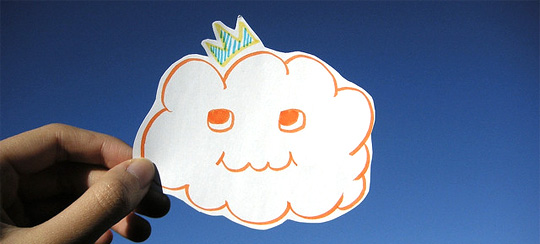 Once Microsoft commercials start touting their ability to keep your data in the "cloud", you know the word has gone mainstream. Let's get the basics out of the way–what is the cloud, and how can you benefit from cloud storage today?
What is the Cloud?
Simply put, the cloud is the Internet. The reason for the new term is that cloud computing marks the movement of data and functions that have historically stayed on the local computer to Internet servers. Data–documents, music, images, etc.–that once lived on local hard drives are now being stored on the servers of web sites like Dropbox, Google Docs, and Grooveshark.
"Cloud computing" is a related term that often encompasses cloud storage as described above, but also hosting applications in the cloud. Applications like Picnik, an online photo editor, Google Docs, an online document editor, or even Gmail, an online email viewer, are all cloud computing: applications once hosted on local computers that now exist online.
For a more in-depth introduction to cloud computing, read Walt Mossberg's WSJ article Learning About Everything Under the 'Cloud.'
Why should I want to keep my data in the cloud?
There are many reasons to want to keep your data local. Spotty Internet connections, online hackers, and the general "why fix what ain't broken" question are all common barriers to cloud computing.
However, there are many compelling benefits of storing your data in the cloud. Here are a few:
Universal access (Device and Location Independence)
The primary benefit of cloud storage is the near-universal access it provides. Anywhere you have an Internet-enabled device (computer, phone, gaming system) and an Internet connection, you have access to your data.
Synchronization
Since every device can access your data, you no longer have to manually sync your devices together. This means your contacts, calendar, and photos and music can live in harmony across multiple devices.
Flexibility (Agility and Scaleability)
Your local hard drive in your computer may feel large and powerful when you first buy your computer–how many of us have said to ourselves, "How could I ever use more than 32GB?"–but after a few years it fills up quickly. Cloud storage is scaleable, meaning that you can add or subtract the amount of storage you have at any time.
Security
Fear of hackers aside, storage in the cloud protects your data from localized catastrophes–spilled coffee, dropped laptops, power surges, or stolen laptops–providing an effective and affordable backup solution. Also, many online storage systems offer file history, so that if you accidentally delete that important report, you can retrieve it from the data history.
Shareability
OK, so maybe this isn't a real word–but anything hosted in the cloud is much easier to share on Facebook, via email, or in group collaborative contexts.
How can I keep my data in the cloud?
Now that you're convinced that cloud storage has something to offer you, how can you get started? There are hundreds of services that provide various levels of cloud storage, but I'll link you to a few basic services to start.
Online Storage and Backup

Dropbox: Dropbox offers 2GB of free storage, synced with your computer. Choose a local folder on your hard drive, and Dropbox will sync its contents (up to 2GB) regularly with its online servers (and with any other computer you install Dropbox on.) You can get more storage space through their promotions or by paying monthly fees. (affiliate link that benefits the author)
Mozy: Similar to Dropbox, but focused more on backup than on regular use and access. Mozy allows you to choose files and folders from around your computer and backs them up regularly with you needing to put in any effort.
SkyDrive: Microsoft recently jumped into the cloud storage game with SkyDrive, offering 25GB of free storage. I've yet to hear any reviews on this one–if you have any experience with SkyDrive, please speak up in the comments.

Text and Notes Databases

SimpleNote: Simplenote allows you to upload, store, tag, and manage text-only notes. You can access these notes from your desktop, mobile device, or directly from the web.
Evernote: Evernote is a more robust document management solution, allowing you to upload, tag, and search images, pdfs, formatted text, and more. Unlike SimpleNote, Evernote has applications for every major platform; however, its interface and abilities are more full-featured (some would say complex).

Contacts, Email, and Calendars

Music

Grooveshark: Grooveshark is an amazing service that allows you to listen to any song in their catalog for free, as many times as you like. You can also create playlists, let Grooveshark discover new music for you, and share music with your friends. Grooveshark is free and ad-supported, with premium memberships for sale.
Pandora: Pandora is focused more on creating radio stations. Where Pandora shines is music discovery; enter your favorite artist and their extremely powerful matching engine will create a radio station just like what you entered. However, you can't choose what you want to listen to like you can with Grooveshark and Spotify. Pandora is free, ad-supported, and limited to 40 hours of listening per week with the free plan.
Spotify: Spotify is a newcomer to the music scene, and Grooveshark's biggest competitor. However, it's not available in the U.S., so most of us are currently out of luck to even try it out.

Photos

Flickr: Flickr is the Internet's premier (and probably longest-running) photo-sharing site. Free users are limited in how many photos they can upload every month, but the site and their photo capabilities are the most powerful of the free photo-sharing sites.
Picasa: Picasa is Google's photo-sharing offering. Tied to their photo management app, you can share any of your galleries from your local computer as a web gallery. It's a powerful photo-sharing app, but it's limited in its social capabilities.
Facebook: Facebook's photo sharing is the most robust in terms of sharing and commenting, but the weakest in terms of high quality photos and features.

Clipping services

Cloud App, Droplr, and Skitch: These apps allow you to quickly upload and share images, links, text, and smaller files from your desktop. Install the apps on your computer and drag content into them, and you'll instantly be provided with a link to share with your friends through Facebook, Twitter, email, or whatever else. All three are Mac-only, but Cloud App and Droplr have Windows alternatives (Fluffy App and WinDroplr).
Many of these services and apps are loved and used at Staffhacker, so keep checking back with us for reviews and how-tos for many of them. Please leave us comments if you have other cloud applications you love, or if you'd like to see reviews or instructions for any of these apps.

(photo from flickr user akakumo)

<!– #comments –>