Mobile Mailchimp signups
Matt Stauffer
Are you using MailChimp for your mass email communication? How many times have you had to write down someone's email address on a scrap of paper just so you can log into MailChimp and add it to your list later? MailChimp offers apps for iPhone and iPad to help you sign-up new subscribers on the go.
MailChimp has two applications that allow you to add subscribers from your iOS device: MailChimp (for iPhone)Â and Chimpadeedoo (for iPad).
As you can see in the picture on the right, the MailChimp app is a fully featured interface that lets you administer your lists, view reports, and track other miscellaneous details.
Chimpadeedoo, however, has one purpose: to turn your iPad (if you have one) into a mobile email sign-up device. Unlike its iPhone counterpart, it allows you to customize every aspect of the sign-up form–their typical use case is a restaurant or store using this to collect address as the register. But if you have your iPad with you at meetings, on campus, or even while traveling, it's now easy to hand it over to your new friend and quickly net a new subscriber.
Both MailChimp and Chimpadeedoo allow for adding new subscribers, but how they do it varies. MailChimp allows you to capture some other fields, where Chimpadeedoo only captures the email address. Chimpadeedoo, however, lets you customize your background image, font and style of subscribe button, turning the app into a personalized, non-branded sign-up app of your own.
Here's what I put together in Chimpadeedoo using just some InterVarsity stock photography, a few minutes in Photoshop, and a little customization: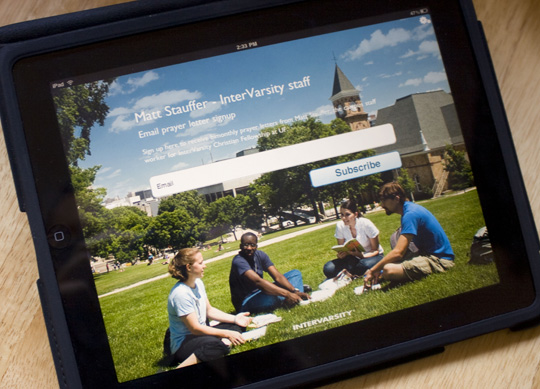 MailChimp and Chimpadeedoo are both free on the iTunes App Store.

(Don't know what MailChimp is? We'll be introducing MailChimp and StaffMonkey in the next few weeks–stay tuned!)

<!– #comments –>